Bellheart -
Bellheart - Kyoto Wedding Photo Specialist.
Kyoto was the old capital of Japan and it is a beautiful city that has many temples and shrines perfect for your wedding photos.

The beauty of Kyoto combined with Bellheart's trusted professional service, we can give you an unforgettable wedding photo experience so you can enjoy looking back at your photos again and again.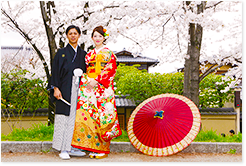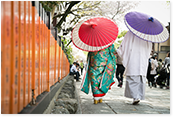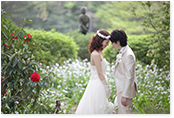 Gallery
東山 Higashiyama


Click here to view gallery
植物園 4/13 Botanical Garden


Click here to view gallery

円山公園 Park Maruyama


Click here to view gallery
閑臥庵 Kangaan


Click here to view gallery
毘沙門堂 12/4 Bishamondo


Click here to view gallery
Why People Choose Bell Heart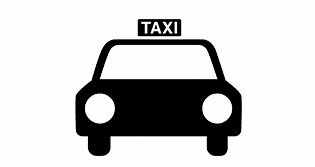 Pick up service
 Our staff will pick you up from the nearest station or hotel in Kyoto city.
You can come to our office without any worries.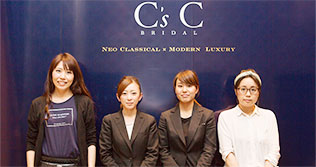 Professional service by professionals
Bell Heart has a team of professional photographers, hair and makeup artists, and stylists.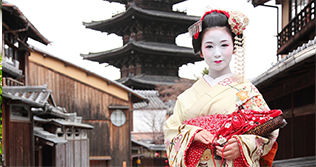 Many options to choose from
We have a wide variety of plans! How about ride in a carriage... with a geisha?
We also have many kinds of clothing, accessory, and photography items.(View Options)
Photography Plans
We have 3 basic package plans for you to choose from.
This plan is great for those who will stay at least one night in Kyoto.
You can wear both a kimono and a dress!
You can stroll around Kyoto for one entire day and take photos.

Photography Options
Free Options

Art bouquet and boutonniere rental
free

Tiara rental
free

Necklace and earring rental
free

Veil rental
free

Japanese accessory rental
free

Photography goods rental
free
Paid Options

Wig
36,300yen
Change hairstyle to wig
Silk headdress (worn on top of wig), tsunokakushi (white cloth decoration when wearing wig)

Balloon (photography accessory)
12,100yen
Photos using a balloon

Carriage
18,150yen(15 min ride)

Album
15,730yen〜
Photography Day Schedule
1.Pick up
We will pick you up for either your hotel (in Kyoto City) or Kyoto Station.We will interpret for you, so please do not worry.
2.Visit shop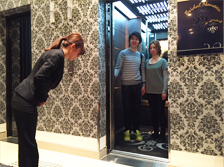 Our salon is located in central Kyoto, Karasuma. We're on the 3rd storey of a building facing the main road.After the elevator doors opens to our studio, you will see a western looking room decorated with a chandelier.
3.Meeting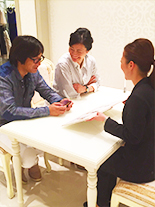 We will confirm the details of your photography session and ask if you have any poses that you would like to try.Unfortunately, we cannot accept requests to change the type of plan or very specific shooting location requests.
4.Choose outfits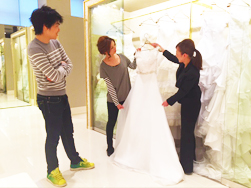 You will choose your outfit. We will arrange outfits based on your preferences we asked you over email.
5.Hair, makeup, and kimono dressing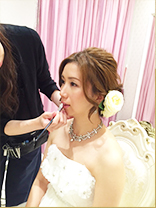 A professional will do your hair and makeup so that it perfectly complements your outfit.Please come to the shoot wearing no makeup.
6.Departure to location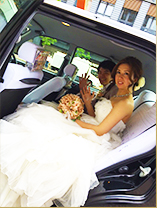 Four of our staff (including an interpreter) will go with you to the location via taxi.
7.Start shoot
Now is the shoot! Our team will get you excited!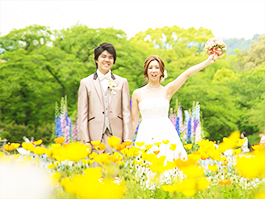 8.Transportation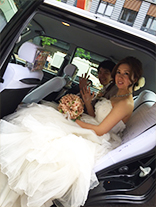 Shoot complete. We will return to the salon via taxi.
9.Change clothes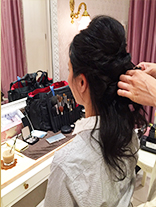 Change into your everyday clothes. We will adjust your makeup so that it matches your clothes.
10.Finished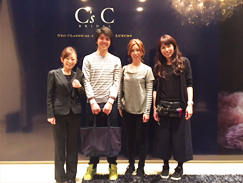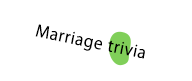 FAQs
How is the payment made? When is it due?


Payment is via credit card or cash payment on the photography session day.
We accept: UC/VISA/MASTER/JCB/AMEX/DINERS/China Union Pay

When is the photography data delivered? In what form?


The data will be sent through email within 4 weeks after the shooting date.

How long does the photography session take?


One Day Full Plan→
Half Day Easy Plan→
Can I try on the clothes when I choose my outfit?


You can try on dresses and tuxedos, however, due to time constraints, we limit this to two outfits.
It is not possible to try on a kimono, but you may put it on over your shoulders and see how it looks.

Where will you come to pick me up at? Can I choose a different pick up and drop off location?


We can pick you up at your hotel (in Kyoto City) or at Kyoto Station.
We can choose the meeting location based on your preferences after a booking is made.
You may select a different pick up and drop off location.
Please let us know if a different location would work better for you (we cannot accommodate locations without parking space).

What languages do you speak?


We can help you in English and Chinese.

What happens if it rains on the day of the shooting?


If it rains on the day of shooting, we will not charge cancellation fee.
We will ask you if you would like to reschedule the shooting.
For those planning to take pictures in a kimono, it is also possible to switch to the short plan taking pictures inside the studio.

Is there anything I should bring to the shooting?


For those choosing a dress and tuxedo, please bring tights, socks, and undershirt for men (to be worn under dress shirt)

We will decide the sock color after the outfits are chosen.

Do you offer photography sessions for one person?


Yes. We also offer groups of three or more (of any gender).
Please inquire about the price.

Shop Details


| | |
| --- | --- |
| Address | 〒604-8162 629-1 Shichikannon-cho, Nakagyo-ku Kyoto-shi, Kyoto, 604-8162, Japan 5 min walk from Karasuma Station (Hankyu Line) 5 min walk from Karasuma Oike Station (Kyoto Subway) |
| Phone | 075-231-4955 Japan standard time 10:00-18:00 Services available in English and Chinese |
| Email | info@bellheart-kyoto.com |
| Closed | Mondays (when Monday is a national holiday, the following Tuesday is closed |