Hikifurisode
Furisode is a type of long-sleeved kimono that unmarried women wear. It is considered the highest level of kimono.
Hikifurisode are also called "ohikizuri", meaning pulling up the sleeves. They were used as ceremonial attire for samurai women.
They are popular because of the wide variety of colors.
Usually black hikifurisode are worn in ceremonies, but nowadays you can wear other colors as well.
Shiromuku
The entire kimono is completely white from head to toe.
White has been considered a sacred color since ancient Japan, so high class women wear shiromuku.
All accessories are white as well.
They are typically used in Shinto ceremonies.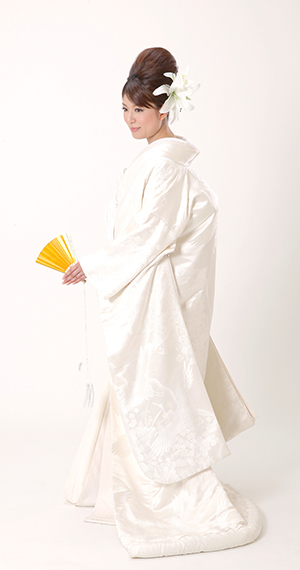 Irouchikake
It is the same shape as a shiromuku but employs colors other than white, like red and gold.
Irouchikake were worn by samurai women as ceremonial attire after the Muromachi Period.
The great thing about irouchikake is the vivid colors.
In wedding ceremonies, it is common to wear a shiromuku during the ceremony itself and an irouchikake during the reception.
In modern Japan, both kimonos are considered equal in terms of wedding ceremony attire.